Main Menu
For reservation call us today at (702) 646-4197
Reservation Information
To make reservations, please call
(702) 646-4197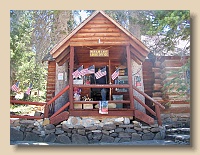 Navajo Lake Lodge wants you to have the accomodations that suit you best.
Here is some advance information that will be helpful.
Check-in time is 2:00 p.m. to 8:00 p.m. MST.
Prior arrangements must be made if arriving after 8:00 p.m.
Check-out time is 10:00 a.m. MST.
In anticipation of your stay with us at Navajo Lake Lodge, the following is some information that may assist you in making your reservations.
A 20% non-refundable charge will be made to your card at the time of confirmation. The remaining balance is to be paid at Navajo Lake Lodge upon checkout. Reservations are based on 2 or more nights.
15 day notice of cancellation or you will be responsible for the entire reservation cost unless we are able to re-rent your cabin.
You can not exceed stated cabin occupancy.
Our cabins are kitchenette cabins; complete with dishes and cookware. Bedding and towels are also included. A charcoal BBQ and

picnic table

are available outside each cabin.
Cabins do not have refrigerators. We suggest you bring an ice chest. Ice is available at our General Store at

Navajo Lake Lodge

.
Navajo Lake Lodge is pet friendly. Our pet fee is $20 per night for one or two pets per cabin. Please bring your Pooper Scooper.
Since we generate our own power at the lodge, we cannot accept any additional electrical appliances (Yes, ladies that includes blow dryers and curling irons, SORRY!!)
We do accept

Mastercard,

Visa and Discover. However, we give an incentive for guest paying with cash at check out.
Navajo Lake Lodge
P.O. Box 1239
Duck Creek Village, Utah 84762

Phone: (702) 646-4197